Short communication
PREVALENCE OF AVIAN INFLUENZA SUBTYPE H9N2 IN BACKYARD POULTRY IN AND AROUND BAHAWALPUR CITY
K. Khan*1, 3, T. Yaqub*1, M. Z. Shabbir1 and A. Aslam2
1Department of Microbiology, University of Veterinary and Animal Sciences, Lahore; 2Department of Pathology, University of Veterinary and Animal Sciences, Lahore; 3Faculty of Veterinary Sciences, Bahauddin Zakariya University, Multan
*Corresponding Author's email address: 2018-phd-1040@uvas.edu.pk, tahiryaqub@uvas.edu.pk
ABSTRACT
Avian influenza subtype H9N2 is endemic in Eurasia and responsible for huge economic losses to the poultry industry. Backyard poultry especially in the areas where modern poultry farming is less common provides a biological niche for the persistence and evolution of Influenza viruses. Current study was designed to bridge this gap by studying the prevalence of H9N2 in backyard poultry in the Bahawalpur city. Out of the ten randomly selected sites in and around the city, only one site was positive for H9N2 virus. The positive site had 22.22% (20/90) prevalence and the overall prevalence rate of the Bahawalpur city was 4% (20/500). This provides a space for viral existence as well as mutation in the viral genome. Backyard poultry sector has close interaction with humans; therefore, Avian Influenza is a continuous threat to humans as a zoonotic agent.
Key words: Avian Influenza H9N2, Bahawalpur, Prevalence, Backyard Poultry
---
https://doi.org/10.36899/JAPS.2021.6.0393
Published online March 31, 2021
---
INTRODUCTION
Besides other viral diseases, Avian Influenza is responsible for inhibiting the progress of poultry sector causing annual production losses of approximately 2.2 billion rupees (Ayaz et al., 2017). Avian Influenza subtype H9N2 is endemic in chickens worldwide (Pusch and Suarez 2018). It belongs to type A Influenza viruses that have a high potential of genetic mutation (genetic drifts) and reassortment (genetic shifts). These viruses are known to cross the species barrier, causing infection and adaptation in new hosts (Kausar et al., 2018). The first outbreak of H9N2 was reported in northern areas of Pakistan in 1998 (Lee et al., 2016; Ayaz et al., 2017), since then the virus has been circulating in region among the commercial and backyard poultry. Subtype H9N2 is categorized into Low Pathogenic Avian Influenza (LPAI) viruses (Sarwar et al., 2013) with high morbidity rate up to 100% and low mortality rate 5-30% causing huge annual economic losses globally, due to loss of production (Li et al., 2005; Parvin et al., 2014; Ayaz et al., 2017). In affected birds, there is hyperemic trachea along with congested lungs while in complicated cases there are also lesions suggestive of hepatitis, peritonitis and enteritis (Cheema et al., 2011). This is a zoonotic virus capable of causing respiratory illness in human beings. Symptoms of the disease include mild upper respiratory tract infections, fever and cough (Ahad et al., 2013; WHO, 2018). Many studies have been conducted to find the prevalence of this virus in areas where the modern poultry farming has been adopted while the low poultry farming areas of Punjab have been neglected. This provides a suitable environment for the virus to circulate in the poultry population and emerge as a new variant (Umar et al., 2016). The current study was conducted to evaluate the prevalence of H9N2 virus in backyard poultry of Bahawalpur City. Most of the area of this region consists of desert with hot climatic conditions so that most of the people in rural areas depend on subsistence farming and there is poor availability of veterinary services for their livestock and poultry (Farooq et al., 2007; Sadef et al., 2015). The common poultry breeds reared in this area are Fayoumi, Desi, Rhode Island Red, Naked Neck, Plymouth Rock and Aseel. Due to free-living nature of farming, crosses of these breeds are also common (Sadef et al., 2015). The purpose of targeting backyard poultry was that they are mostly non-vaccinated, more exposed to wild and migratory birds as compared to commercial poultry and they are reared as more than one breeds at a time along with other species of animals like cattle and goats in the same place (Farooq et al., 2007). Inadequate biosecurity measures adopted by the farmers in this area make the birds more prone to harbor new infections and become reservoir of avian influenza zoonosis (Hadipour et al., 2011).
MATERIALS AND METHODS
Sample collection and transportation: A total of 500 samples of backyard poultry were collected from 10 different randomly selected locations in and around Bahawalpur City (Table 4) on convenient basis from November 2019 to February 2020. The virus transport medium (VTM) was prepared from CRITERON® Brain Heart Infusion Broth (BHI) according to the manufacturer's instructions and autoclaved. Gentamycin was added (0.5mg/ml of BHI) after cooling. Oral swabs were collected from H9N2 suspected live birds, labeled properly, dipped in BHI and transported in ice box to the Influenza Laboratory, Department of Microbiology, UVAS for further processing.
Sample processing: Swabs were placed in microfuge tubes along with VTM and vortex. Then, the samples were centrifuged at 10,000 rpm for 15 minutes and supernatant was collected in microfuge tubes. Nystatin was added at a dose rate of 2.5mg/ml and tubes were placed in incubator at 37ºC for one hour.
Virus Propagation and Harvesting: After incubation, the processed samples were inoculated in 9 days old viable embryonated chicken eggs via chorio-allantoic sac route using standard procedure (Khalili et al., 2013). After inoculation the eggs were sealed with wax and incubated at 37ºC for 48 hrs (OIE., 2005; Abid et al., 2017). Candling of embryonated eggs were done after 24 and 48 hours in order to check post inoculation death. After 48 hours, eggs were chilled at 4 ºC overnight prior harvesting the Allantoic Fluid (AF). After that, AF was collected in 15ml falcon tube from each egg separately under sterilized conditions with the help of 5mL micropipette and labeled properly.
Haemagglutination Test (HA) and Haemagglutination Inhibition (HI) Assay: Haemagglutination activity of the virus in the harvested AF was checked by HA test. Haemagglutination test was performed by using 1% washed chicken RBCs and protocol was performed as described (OIE., 2012). The 4HA units of virus were prepared by following the procedures described by (Villegas and Purchase 1998). The HA positive samples were proceeded for HI test using commercially available sera against H5, H7, H9 and Newcastle Disease Virus (NDV). The HI assay was performed according to the method described (OIE., 2012).
RNA Extraction and cDNA Synthesis: Total RNA was extracted from HI positive AF against H9 anti-serum using QIAmp Viral RNA Extraction Mini Kit following the manufacturer's instructions. Complementary deoxyribonucleic acid (cDNA) was synthesized from extracted RNA using RevertAid First Strand cDNA Synthesis Kit (Thermo Scientific®) according to manufacturer's instructions.
PCR and Agarose Gel Electrophoresis: For Polymerase Chain Reaction (PCR) reported primers of H9 and N2 genes were used following (Ali et al., 2018) and PCR products were analyzed on a 1.2% agarose gel and visualized in a Gel Doc system (Bio Rad System US). A brief description of primers used for virus identification and their PCR conditions are mentioned in below (Table1, 2, 3).
Table 1: Primer detail for first half gene amplification of H9 and N2 genes
Sr. No.

Primer Name

Primer Sequence

Product size (bp)

1

NA-F-10

5-GCAGGAGTGAAAATGAATCCAAATC-3

833

NA-R-10

5-ATGCTGAGCACTTCCTGACAGT-3

2

HA-900-F

5'-TGACAACAAGCAATGCAGAC-3'

945

HA-900-R

5'-GGTAGTGTACTGTTTAAGCCAC-3'
Table 2: Thermal conditions for first half segment of neuraminidase gene amplification (NA-10)
Sr. No.

PCR steps

Temperature (ᴼC)

Time

Cycles

1

Initial denaturation

95

5min

1

2

Denaturation

94

30sec

35

3

Annealing

57.2

30sec

4

Extension

72

60sec

5

Final Extension

72

10min

1

6

Hold

4

10min

1
Table 3: Thermal conditions for first half segment of hemagglutinin gene amplification (HA-900)
Sr. No.

PCR steps

Temperature (ᴼC)

Time

Cycles

1

Initial denaturation

95

5min

1

2

Denaturation

94

30sec

35

3

Annealing

53

30sec

4

Extension

70

60sec

5

Final Extension

70

10min

1

6

Hold

4

10min

1
RESULTS
A total of 500 samples were collected from Akhtarabad (n=92), Mari Lachi (n=08), Chak 13 BC (n=90), Tailwala (n=05), Chak 12/DRB (n=69), Mithra bangla (n=19), Chak 14/DRB (n=43), Chak 37/DNB (n=62), Chak 38/DNB (n=77) and Head Rajkan (n=35). Out of 500 samples, 65 (13%) were positive for HA test (Table 4; Figure 2). HI assay using specific anti-sera against H5, H7, H9 and NDV did not reveal avian influenza subtypes H5 and H7. An overall prevalence of 4% (20/500) for H9 and 9% (45/500) for ND was detected (Table 5).
Table 4:Prevalence of H9N2 in Backyard poultry at different locations of Bahawalpur City
| | | | | | |
| --- | --- | --- | --- | --- | --- |
| Area of sampling | No. of samples (n) | Samples positive for HA | Samples positive for HI (against NDV) | Samples positive for HI (against H9) | Percent positive of H9 (%) |
| Akhtarabad | 92 | 15 | 15 | 0 | 0 |
| Mari Lachi | 08 | 0 | 0 | 0 | 0 |
| Chak 13 BC | 90 | 20 | 0 | 20 | 22.22 |
| Tailwala | 05 | 0 | 0 | 0 | 0 |
| Chak 12/DRB | 69 | 05 | 05 | 0 | 0 |
| Mithra bangla | 19 | 0 | 0 | 0 | 0 |
| Chak 14/DRB | 43 | 05 | 05 | 0 | 0 |
| Chak 37/DNB | 62 | 10 | 10 | 0 | 0 |
| Chak 38/DNB | 77 | 05 | 05 | 0 | 0 |
| Head Rajkan | 35 | 05 | 05 | 0 | 0 |
| Total | 500 | 65 | 45 | 20 | |
Table 5:Prevalence of H9N2 and ND in Bahawalpur City
| | | | |
| --- | --- | --- | --- |
| | Total samples tested | Number positive | Prevalence |
| H9N2 | 500 | 20 | 4% |
| ND | 500 | 45 | 9% |
According to our results, ND is more prevalent than Avian Influenza among backyard poultry of the Bahawalpur City. Highest isolation of H9N2 was observed at Chak 13 BC while no any other case of avian influenza was observed at any other location of Bahawalpur City during the study period (Figure 1). Furthermore, molecular testing of H9 positive samples of Chak 13 BC through conventional reverse transcriptase PCR by using specific primers targeting H9 and N2 genes confirmed the subtype as H9N2 of Avian Influenza (Figure 2).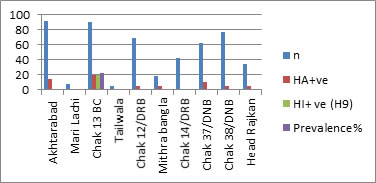 Figure 1:Percentage positivity of H9N2 in Backyard Poultry from different localities of Bahawalpur City
Figure 2: Haemagglutination positive samples
Figure 3: Agarose gel showing first half of H9 and N2 gene amplicons
DISCUSSION
RNA viruses are more prone to mutation (genetic drift) and among them viruses possessing segmented genome have more chances to evolve into a new variant in short period of time by genetic shift (Quinn et al., 2011). Avian Influenza viruses are the RNA viruses segmented genomes are continuously evolving so there is a need of regular surveillance to monitor their prevalence in a specific area (Chen and Deng., 2009). Poultry industry is the second largest industry of Pakistan providing livelihood to about 1.5 million peoples directly and indirectly (Economic survey of Pakistan 2019-2020). Subtype H9N2 of avian influenza is being endemic in the country is a continuous threat to the poultry industry (Lee et al., 2016). Even though it causes low mortality in the birds (5-30%) but due to high morbidity (100%) birds show loss of production and as a result there is huge economic loss to the farmers (Liu et al., 2003). A study conducted in Gujranwala district of Pakistan in which sero-prevalence of H9N2 calculated in commercial poultry farms. Three sites (out of 10) were found to be positive with a prevalence of 20%, 50% and 30% on Wazirabad road, Pasroor road and Lahore road respectively (Cheema et al., 2011). Hazara region which is comprised to hilly area (with an altitude ranging from 1700ft to 4000ft above the sea level). A study conducted in this region for the prevalence of H9N2. Oral and cloacal swabs were collected from commercial poultry farms of five districts of this region including; Abbottabad, Mansehra, Battagram, Haripur and Kohistan which showed the prevalence rate of 50%, 27.3%, 4.5%, 13.7% and 4.5% respectively (Ayaz et al., 2017). Bahawalpur is situated in Cholistan desert having hot climatic conditions with prolonged summer (Farooq et al., 2007). This makes the area less suitable for commercial poultry farming. Therefore most of the people living in this area prefer backyard farming (Sadef et al., 2015). Backyard poultry in this area consists of various local breeds of chicken which can survive in harsh climatic conditions (Padhi 2016). But lack of veterinary facilities in remote areas, ignorance and non-adherence regular vaccination schedule make the backyard poultry and livestock of this area more vulnerable to various diseases (Farooq et al., 2007). Current study provides evidence on the presence of H9N2 influenza virus in backyard poultry with a prevalence rate of 4% in Bahawalpur City, which has a zoonotic potential for the farmers (Ahad et al., 2013). However, the presence of the other subtypes H5 and H7 was not detected in the area. In addition, NDV was also found to be circulating in the region and had more prevalence (9%) than H9N2 on the basis of HI assay. Our results suggest that, the local breeds may be more resistant to influenza viruses when compared to NDV. A similar finding was reported in a study in Iran (Broomand et al., 2018). Another study showed that H9N2 is more common than the NDV in commercial poultry because of effective vaccination against the later one (Ali et al., 2018).
Conclusion: Avian Influenza viruses are circulating not only in commercial poultry but also in the backyard poultry. Therefore, strategies should be developed to control avian influenza in both commercial and backyard poultry.
LITERATURE CITED
Abid, M., T. Yaqub, A. Mehboob and M. Z. Shabbir (2017). Characterization and phylogenetic analysis of avian influenza virus subtype h9n2 in Pakistan. Hosts and Viruses. 4(4): 62-69.
Ahad, A., M. Rabbani, T. Yaqub, M. Younus, A. Mahmood, M. Z. Shabbir, Z. Fatima, R. K. Khalid and M. Rasheed (2013). Serosurveillance to H9 and H7 avian influenza virus among poultry workers in Punjab Province, Pakistan. Pak. Vet. J. 33(1).
Ali, M., T. Yaqub, N. Mukhtar, M. Imran, A. Ghafoor, M. F. Shahid, S. Yaqub, G.J. Smith, Y.C. Su and M. Naeem (2018). Prevalence and phylogenetics of H9N2 in backyard and commercial poultry in Pakistan. Avian Dis. 62(4): 416-424.
Anonymous (2019-2020). Economic Survey of Pakistan, Economic Affairs Division, . Ministry of Finance, Pakistan., Islamabad. Chapter, 2. 18-37.
Ayaz, M., M. A. Abbas, Y. Amin, A. Zubair, N. Siddique and K. Naeem (2017). Prevalence of H9N2 avian influenza viruses in Hazara Region of Pakistan. Pak. J. Zool. 49(4).
Broomand, Z., R.A. Jafari and M. Mayahi (2018). Detection of Newcastle disease, H9N2 avian influenza, and infectious bronchitis viruses in respiratory diseases in backyard chickens in Ahvaz, Iran, in 2014-2015. Arch. Razi. Inst. 73(1): 19-25.
Cheema, B.F., M. Siddique, A. Sharif, M.K. Mansoor and Z. Iqbal (2011). Sero-prevalence of avian influenza in broiler flocks in district Gujranwala (Pakistan). Int. J. Agric. Biol. 13(6).
Chen, J and Y. M. Deng (2009). Influenza virus antigenic variation, host antibody production and new approach to control epidemics. Virol. J. 6(30).
Farooq, U., M. Iqbal and M. Ahmad (2007). Livestock farming in Cholistan desert of Pakistan: setting the development strategies. Arid. Zone. 46(2): 111-132.
Hadipour, M. M., G. Habibi, A. Vosoughi (2011). Prevalence of antibodies to H9N2 avian influenza virus in Backyard chickens around Maharlou lake in Iran. Pak. Vet. J. 31: 192-194.
Kausar, A., S. Anwar, N. Siddique, S. Ahmed, and J. I. Dasti (2018). Prevalence of avian influenza H9N2 virus among wild and domesticated bird species across Pakistan. Pak. J. 50(4): 1347-1354.
Khalili, I., R. Ghadimipour, A. Ameghi and S. Sedigh-Eteghad (2013). Optimization of incubation temperature in embryonated chicken eggs inoculated with H9N2 vaccinal subtype of avian influenza virus. Vet. Res. Forum. 4: 145.
Lee, D. H., D. E. Swayne, P. Sharma, S. F. Rehmani, A. Wajid, D. L. Suarez and C. L. Afonso (2016). H9N2 low pathogenic avian influenza in Pakistan 2012–2015. Vet. Rec. Open. 3(1), e000171.
Li, C., K. Yu, G. Tian, D. Yu, L. Liu, B. Jing, J. Ping and H. Chen (2005). Evolution of H9N2 influenza viruses from domestic poultry in Mainland China. Virology. 340(1): 70-83.
Liu, M., S. He, D. Walker, N. Zhou, D. R. Perez, B. Mo, F. Li, X. Huang, R. G. Webster and R. J. Webby (2003).The influenza virus gene pool in a poultry market in South central china. Virology. 305(2): 267-275.
(2012). Avian Infuenza. Manual of Diagnostic Tests and Vaccines for Terrestrial Animals. Terrestrial Manual. Chap 2.3.4. World Organization for Animal Health, Paris, France.
(2005). Manual of Diagnostic Tests and Vaccines for Terrestrial Animals. Part 2, Section 2.1, Chapter 2.1.14. World Organization for Animal Health, Paris, France.
Pusch, E. A and D. L. Suarez (2018). The multifaceted zoonotic risk of H9N2 avian influenza. Vet. Sci. 5(4): 82.
Padhi, M. K. (2016). Importance of indigenous breeds of chicken for rural economy and their improvements for higher production performance. Scientifica. 2016:2604685.
Parvin, R., K. Heenemann, Y. Halami, E. H. Chowdhury, M. R. Islam and T. W. Vahlenkamp (2014). Full-genome analysis of avian influenza virus H9N2 from Bangladesh reveals internal gene reassortments with two distinct highly pathogenic avian influenza viruses. Arch. Virol. 159(7): 1651-1661.
Quinn, P. J., B. K. Markey, F.C. Leonard, P. Hartigan, S. Fanning and E. Fitzpatrick (2011). Veterinary microbiology and microbial disease. 2nd John Wiley & Sons; USA. 647 p.
Sadef, S., M. S. Khan and M. S. Rehman (2015). Indigenous chicken production in Punjab: A detailed survey through participatory rural appraisals. J. Anim. Plant Sci. 25: 1273-1282.
Sarwar, M., K. Muhammad, M. Rabbani, M. Younus, N. Sarwar, M. A. Ali and A. Ahad (2013). Prevalence of avian influenza viruses in live bird markets of Lahore. J. Anim. Plant Sci. 23: 388-92.
Umar, S., S. Sarfraz, A. Mushtaq and M. Attique (2016). Emerging threat of H9N2 viruses in poultry of Pakistan and vaccination strategy. Worlds Poult. Sci. J. 72(2): 343-352.
Villegas, P. and H. G. Purchase (1998). Titration of Biological Suspension; A Laboratory Manual for the Isolation and Identification of Avain Pathogens. 4th Kendal Hunt American Association of Avian Pathologists; Iowa (USA). 186-190p.
World Health Organization. (2018). Influenza (Avian and other zoonotic). November 13, 2018.